JCE BIOTECHNOLOGY
With more than 25 years of experience designing, manufacturing and maintaining customised isolators and personalised isolation technology solutions for the pharmaceutical industry, hospitals and laboratories, JCE BIOTECHNOLOGY offers a broad range of equipment and products that comply with the constantly changing BPF, cGMP and ISO standards, and to requirements specific to clean rooms and other controlled environments:
– Isolators
– PPA and H2O2 bio-decontamination systems
– Transfer Airlocks
– Secure RTP (Rapid Transfer Port)-type Transfer Systems
– Range of accessories and single-use consumables.
JCE BIOTECHNOLOGY also provides qualification, validation, maintenance and training services.
OVER 25 YEARS OF EXPERTISE, FLEXIBILITY, SAFETY AND TECHNOLOGICAL INNOVATION
Founded in 1992 and located at the Hauterive Bioparc in Auvergne since 1998, JCE BIOTECHNOLOGY is now the leading installer in France of isolators in hospital pharmacies. To manage its expanding business, JCE BIOTECHNOLOGY relocated to a new, ultra-modern 2500 sqm building in 2017. The building houses all of the company's employees and expertise and offers a setting that is both conducive to work and to welcoming customers.
More+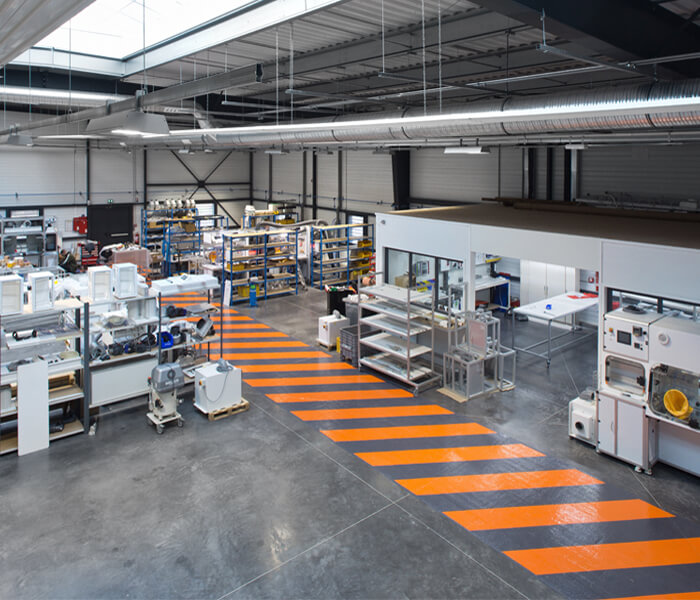 SOLUTIONS THAT TARGET ALL BUSINESS SECTORS INVOLVING CLEAN, ULTRA-CLEAN OR STERILE ENVIRONMENTS AND PROCESSES
– Hospital and clinical pharmacies
– Pharmaceutical industry
– Chemical industry
– Cosmetic industry
– Food processing industry
– Electronic industry
– Laboratories and research institutes
– Life sciences
TEAM SPIRIT
United by a strong team spirit, JCE BIOTECHNOLOGY employees are grouped into the following departments:
– General Management
– Human Resources
– Industrial Division
– Accounts/Financing
– Design Office
– Production
– Quality
– Marketing
– Sales
– Purchasing and Shipping
– After-Sales and Maintenance
Back to top
REFERENCES IN FRANCE AND ABROAD
JCE BIOTECHNOLOGY is recognised for its expertise in public and private establishments both in France and internationally.
Hospitals and clinics
– University and regional hospital centres
– Hospital centres
– Regional cancer treatment centres
– Military teaching hospitals
– Private clinics and hospitals
Industry and life sciences
– Key pharmaceutical industry players
Laboratories and research institutes
– Key public and private players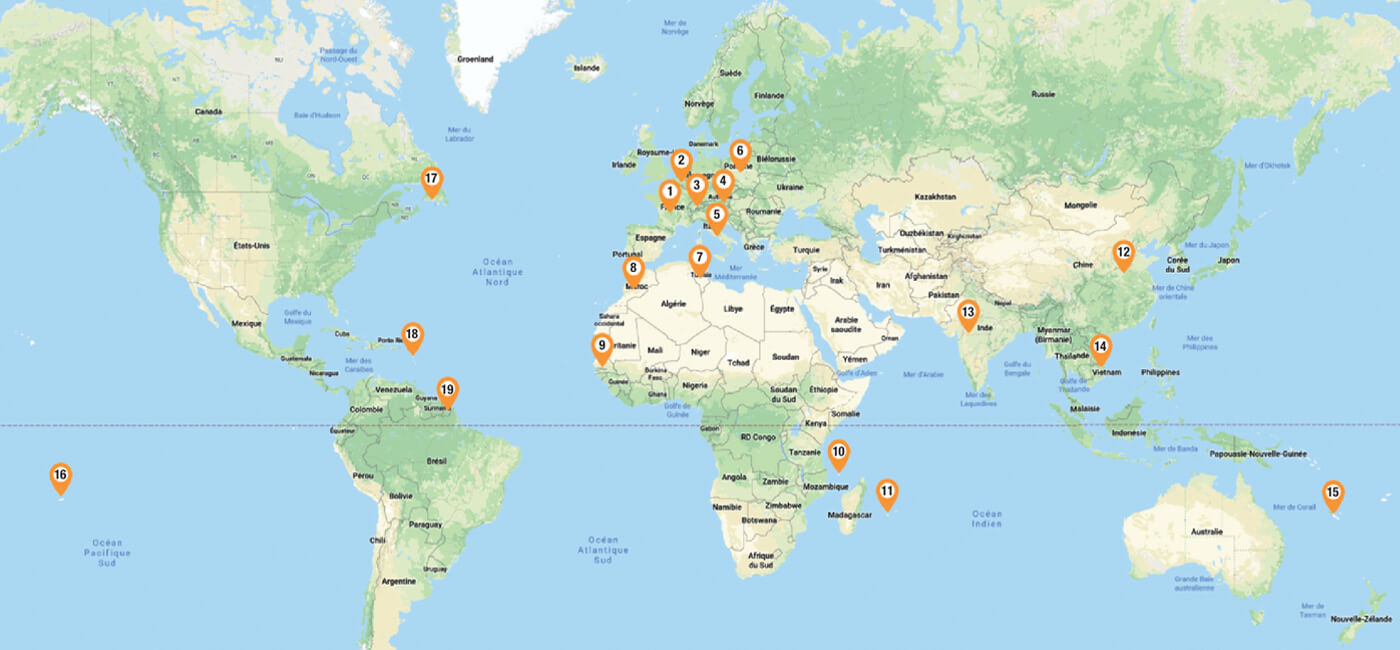 JCE BIOTECHNOLOGY worldwide
1 France – 2 Belgium – 3 Switzerland – 4 Austria – 5 Italy – 6 Poland – 7 Tunisia – 8 Morocco – 9 Senegal – 10 Mayotte – 11 Reunion Island – 12 China – 13 India – 14 Vietnam – 15 New Caledonia – 16 Polynesia – 17 Saint-Pierre and Miquelon – 18 Guadeloupe and Saint-Martin – 19 French Guyana
Back to top